2012 DUI and Drunk Driving Cases, NH & MA
You might not have to plead out! Below is an extensive list of DUI cases and drunk driving cases in MA and NH that might have been plead out if they had been handled by some Attorneys. ButAttorney Bowser will work diligently on your behalf in NH or MA DUI cases and drunk driving cases, and question every single claim of the Prosecution, piece by piece. In the more challenging cases,Attorney Bowser knows how to aggressively take drunk driving cases and DUI cases to trial and win. Let Attorney Bowser protect your legal rights in MA and NH. Call 1-888-526-9737 during the hours of 9AM to 5PM or send Attorney Bowser details of your arrest in the form to the right.
MA OUI Drugs Charge Dismissed
May, 2012
Police in Massachusetts stop vehicle for rolling through red traffic light. Police officer notes young driver appears tired and nervous. Officer questions driver and passenger about their whereabouts, destination and whether they are carrying marijuana. The odor of burnt marijuana from the vehicle is present throughout the roadside encounter. Police order driver from car, arrest for OUI Drugs follows. Defense successfully argues Motion to Suppress and Court agrees the mere odor of marijuana, no longer evidence of criminal activity in Massachusetts, is not legal grounds to require exit order and field sobriety tests. Arrest deemed illegal, MA OUI Drugs charge dismissed.
NH DWI Charge Dismissed
May, 2012
Citizen cell phone caller in New Hampshire anonymously reports erratic driver exiting highway. Responding police find matching vehicle in rear parking lot of closed fast food restaurant, but car is no longer running and subject is outside car. Officer notes odor of alcohol, glassy eyes and slurred speech. Field sobriety tests are administered but of questionable value in light of driver's high heels and congenital orthopedic conditions. NH DWI charge dismissed prior to trial.
NH DWI Charge Dismissed
May, 2012
Police in New Hampshire allegedly take note of driver crossing double yellow line while viewing car passing in side view mirror. Officer turns to follow car and stops vehicle in residential neighborhood. Young driver displays odor of alcohol and glassy eyes and admits to consuming "four" beers. Administrative hearing process reveals that Officer did not comply with correct protocol for all of the field sobriety tests. Booking video also utilized to show driver's lack of slurred speech and apparent sobriety. DWI in NH charge dismissed prior to trial.
NH DWI Charge Dismissed
April, 2012
Police begin following vehicle in early morning hours as it drives through parking lots of various closed businesses and restaurants on busy commercial street. Police feel that driving activity is "suspicious" in light of early morning hours. Just as vehicle re-enters flow of traffic on main thoroughfare police activate blue lights and stop car. Driver displays odor of alcohol, slurred speech and glassy, bloodshot eyes admitting that she was drinking earlier and was only out looking for an open fast food restaurant. DWI in NH arrest follows failed field sobriety tests. Defense prepared to argue Motion to Suppress that traffic stop illegal and not supported by reasonable articulable suspicion of criminal activity. NH DWI charge dismissed prior to trial.
MA OUI Drugs Charge Dismissed
April, 2012
Police in MA stop driver for encroaching upon fog line numerous times on highway. Driver admits to smoking pot with passenger just prior to driving home from Boston but shows no other signs of impairment. Based on odor of burnt marijuana and admission to smoking, police order driver from truck to further investigate. After speaking with passenger, police put driver through field sobriety tests and later charge him with OUI Drugs. Defense successfully argues Motion to Suppress and recent Massachusetts case law which recognizes that the mere presence of an odor of Marijuana does not create reasonable articulable suspicion of a crime. Exit order and seizure ruled illegal. Massachusetts OUI Drugs charge dismissed.
NH DWI Charge Dismissed
April, 2012
Citizen cell phone caller reports erratic operation of vehicle in downtown area. 2nd caller gives identical description of vehicle which has just left scene of minor traffic accident moments later. Police trace plate to registered owner's address. Client is found in house preparing dinner and drinking wine. She denies being driver of vehicle at time of accident and refuses to identify her "girlfriend" who she claims was actually driving. Defense focuses on inconsistencies in two civilian descriptions of driver's physical appearance and the clothing she was wearing. Arresting Officer admits at administrative hearing that client does not match description given by witnesses. New Hampshire DWI Charge and Conduct After Accident charge dismissed.
NH DWI Conviction Vacated
April, 2012
MA resident appears in NH Court without counsel and enters guilty plea to NH DWI 1st Offense which alleges driving under the influence of prescribed drugs. Both the Court and the prosecutor are unaware of the defendant's prior record of two (2) prior OUI offenses in MA, each over 15 years ago. Defendant doesn't understand the impact of priors in MA. NH Court sentences driver to ninety (90) day loss of license but MA RMV later imposes eight (8) year loss of license under lifetime lookback provisions of Melanie's Law as third offender. Counsel successfully argues Motion to Vacate NH Plea and Conviction and then negotiates dismissal of DWI charge. Eight (8) year loss of license in MA eliminated.
NH DWI Charge Dismissed
March, 2012
Driver stopped for one-way street violation in New Hampshire. Although client admits to drinking several beers over many hours he performs reasonably well on field sobriety tests. Post arrest booking video depicts the driver as cooperative, polite and alert, without overt evidence of impairment. Due to conflicting records of a mandatory 20 minute observation period before the reported .14 breath test, the evidence is excludable. NH DWI Charge Dismissed.
MA OUI Drugs Charge Dismissed
March, 2012
Police find driver sleeping/passed out in his car behind a closed business in the early morning hours. Driver admits to being "too fucked up to drive." Search of car discloses evidence of recent marijuana use. Despite government claim that client was driving under the influence of drugs, no percipient witness exists to support claim of impairment by marijuana, which is beyond the understanding of lay persons, and requires expert testimony from the prosecution. Other admissions and statements of defendant are excluded by Defense Motion to Suppress. Standard field sobriety tests were mostly passed and are applicable only as to alcohol impairment. Massachusetts OUI Drugs Charge Dismissed for lack of prosecution.
Not Guilty Verdict MA OUI Charge
March, 2012
Police in Massachusetts begin to follow alleged drunk driver because he appears to be speeding on highway. After observing client in traffic police stop him and begin standard OUI investigation to include field sobriety tests. Defense challenges validity of field sobriety tests and officer's opinion regarding the defendant's intoxication. Defense asserts police followed driver for nearly 5 miles before deciding to stop him. Driver admits to coming from a local restaurant where he had two drinks with a friend and shared appetizers. Defense calls bartender who served defendant as a witness. Experienced bartender testifies that he is familiar with the client and remembers being surprised to learn he was arrested for OUI given his apparent sobriety and reasonable consumption of alcohol. Not Guilty Verdict following trial.
Not Guilty Verdict NH DWI Charge
March, 2012
Police stop driver for alleged speeding violation. Driver admits to consuming "two drinks" and agrees to participate in filed sobriety tests. Defendant's use of prescribed medications for ADHD condition may affect both the horizontal gaze nystagmus test and his ability to successfully complete new tasks such as the Walk and Turn and One Leg Stand test. Defense also focuses on defendant's ability to assist in the removal of his car's front bumper for tow operater, while handcuffed, as evidence of his apparent sobriety. Not guilty verdict following NH DWI trial.
Not Guilty MA OUI Charge
March, 2012
Alleged Drunk Driver is pulled over by police while negotiating highway construction traffic. Client claims he is forced into breakdown lane by trailer truck failing to yield at lane restriction. Police stop driver for use of breakdown lane and note slurred speech, red/glassy eyes and an odor of alcohol. Driver admits to drinking a few beers after work with colleagues. Despite recent knee injury, police require standard walking and balancing field sobriety tests. Post arrest breath test .10 BrAC. Defense challenges validity and accuracy of breath test device including maintenance and calibration records. Medical records disclose client underwent knee surgery in the days following the arrest for the knee injury. Not guilty verdict following Massachusetts OUI trial.
Not Guilty Verdict MA OUI
February, 2012
Alleged Massachusetts Drunk Driver crashes his car into construction sign on highway. Several police respond to scene. Driver appears confused as to time and location. Certain police witnesses note an odor of alcohol and signs of impairment, including odor of alcohol, slurred speech and balance issues, while other police witnesses testify that the driver is "not right", and possibly ill. Client has no memory of crash or interaction with police and he has a history of migraine syndrome with aura, which often times leads to blackout, slurred speech, loss of vision and physical coordination. Defense presents medical records to substantiate history of migraine syndrome and civilian witnesses who were with client prior to his arrest. Not guilty verdict following MA OUI trial.
Not Guilty Verdict MA OUI Charge
January, 2012
Client stopped by police for marked lanes violations. Driver admits to texting while driving which caused her to momentarily leave her lane of travel. Driver also admits to consuming one (1) glass of wine with friend before driving. Two (2) separate police officers put driver through field sobriety tests. Defense compares and contrasts the officers' observations and opinions regarding the driver's condition and performance on these tests Defense witness called to establish time line and driver's sobriety. Not guilty verdict following MA DUI trial.
Not Guilty Verdict MA OUI Charge
January, 2012
Police called to home to investigate a young woman in Massachusetts who has knocked on the front door in the early morning hours. She appears distraught, injured and confused as to how she arrived at home. Responding Police find a vehicle crashed approximately .3 miles from the home with items and property belonging to the client inside. The client denies she was the driver at the time of the crash but police surmise no other persons were involved. Police arrest client and charge her with OUI. Post arrest hospital blood draw is .18 blood alcohol level. Defense challenges evidence of client as only possible operator at time of crash. Not guilty verdict following MA OUI trial.
MA OUI Charge Dismissed
January, 2012
Alleged Drunk Driver in Massachusetts involved in head-on collision with oncoming vehicle in snowstorm. Responding police, fire and EMTs take note of the driver's belligerent behavior and overwhelming odor of alcohol. Although police follow defendant to hospital emergency room they do not request a blood sample. At trial date on OUI Serious Bodily Injury charge the government fails to timely produce any witnesses, to include hospital, police or civilian witness. MA court allows defense request to dismiss charges.
Past successful case results are not a guarantee or promise of a similar result in your case. Each case is factually distinct with various applicable legal standards. Further, as a trial lawyer with the experience of hundreds of completed Jury and Bench DUI trials in Massachusetts and New Hampshire Attorney Bowser understands the risks associated with the adversarial trial process. Any lawyer who claims never to lose cases doesn't really try cases, especially difficult cases. Anonymous factual/legal summaries are authorized in advance by clients.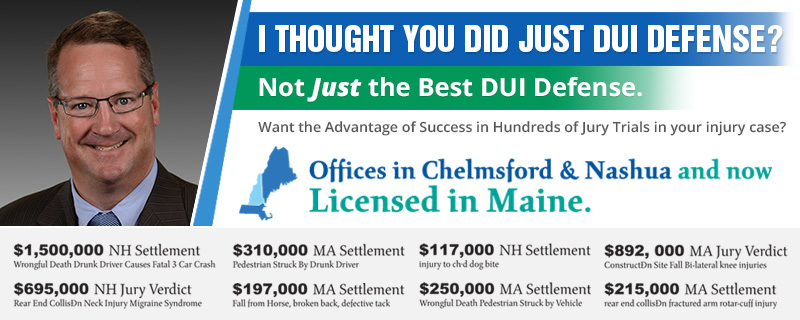 23 years of Proven Personal Injury Results. www.bowserlaw.com