What do I do if I was injured during an Airbnb stay?
April 24, 2019
Category: Personal Injury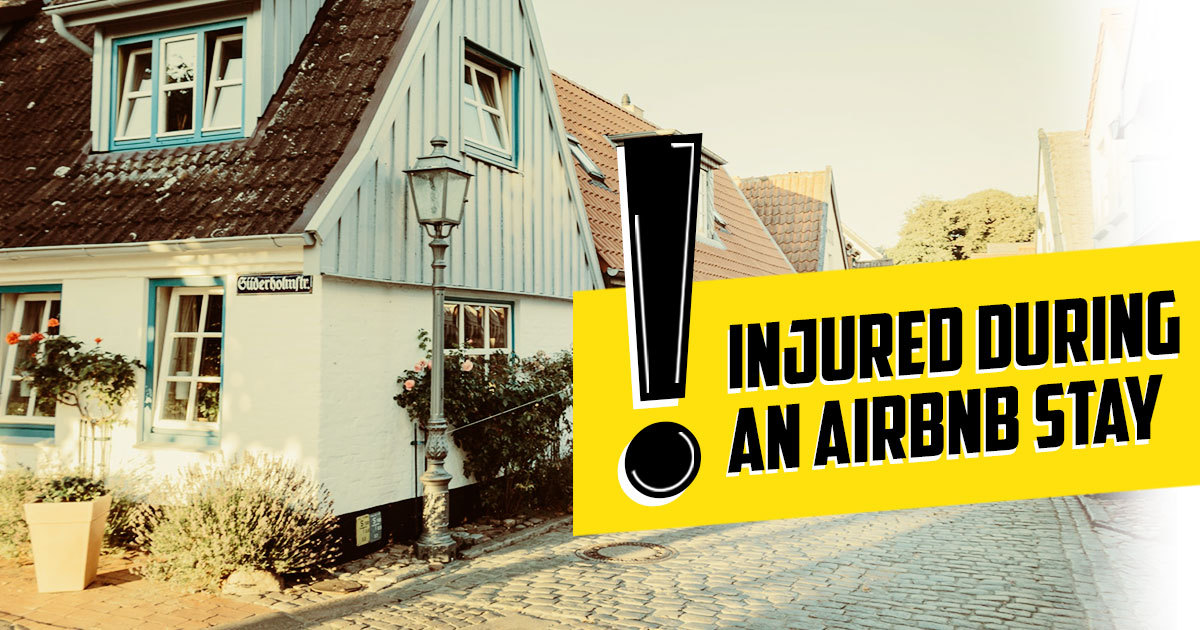 Whether it's skiing season or boating season, tourism is a major industry in New England. People come from far and wide to visit Massachusetts and all it has to offer. One major innovation in the hospitality industry is Airbnb. Many travelers prefer using Airbnb to traditional hotels because of the convenience and lower rates for your stay.
Unfortunately, accidents can happen anywhere. So what should you do if you were injured during an Airbnb stay in Massachusetts?
Airbnb offers what it calls Host Protection Insurance. This is liability insurance which covers the host for up to $1 million against claims for bodily injury or property damage. Airbnb's host protection insurance acts as primary insurance coverage if someone is injured during a stay.
Some examples of injuries can be:
A guest slipping on an icy sidewalk and suffering injuries
Injuries sustained due to faulty exercise equipment in the apartment building
A guest drops luggage on the foot of a third-party and that third party claims damages
While the process may seem straightforward, pursuing a claim against a major company like Airbnb is not something one should undertake on their own. As with any premises liability claim, the insurance company for Airbnb seeks to deny liability and minimize the damages they have to pay. To do this, they may pressure you into taking a settlement far less than the value of your claim, or admit to facts that may damage your case.
The best thing for you to do is preserve all of your records and find an experienced personal injury attorney. Your case is important and you deserve to be compensated fully for your injuries and suffering.
In major cases like these, when it is your future on the line, you need experience, integrity, and knowledge on your side. Since 1995, Attorney Mike Bowser has successfully tried hundreds of jury trials to a favorable verdict before the Massachusetts Superior and District Courts. He has recovered over $5.5 million for injured clients and he is well known for his professionalism and experience.
The best thing you can do right now is call us to schedule your free case consultation. We handle personal injury cases on a contingency fee basis, which means you don't pay us until we recover money for you.
What is the Bowser Law Difference?
There are many attorneys out there, but Mike Bowser stands out as bold, fearless and passionate.
Mike Bowser offers a personal touch to personal injury cases. He cares about you and your family and how this tragedy has deeply affected you. He will investigate and personally prepare your case

to pursue the maximum compensation for you.

Clients who have hired Mike Bowser LOVE him!

Take one look at some of his five star reviews and you will know exactly why.
Mike Bowser is a ruthless trial attorney who has appropriately received accolades from judges and opposing counsel for his expertise and professionalism.
Attorney Bowser has over twenty-five years of experience representing clients injured due to the negligence of another. He has tried several hundred cases successfully to verdict in the District and Superior Courts, including many personal injury jury verdicts that far exceeded the Insurance Company's last best offer.
Clients have trusted us for premises liability cases. Here are some examples:
Slip and Fall On Construction Site
$828,000.00
Injury

Union painter falls on construction site when he steps on copper pipe left on floor and covered with sawdust. Torn meniscus of left knee and total tear of right knee MCL/ACL. Medical bills exceed $83,000. Lost wage claim includes total permanent disability from occupation as painter.
Challenge

Insurance company for general contractor responsible for job site safety denies liability, questions the plaintiff's credibility and challenges the extent and nature of his injuries. Pre-trial offer of $300,000 reduced to $250,000 at trial. Plaintiff owes $220,000 to Worker's Compensation Insurance Carrier.
Result

Jury verdict following eight (8) day personal injury trial before the Suffolk Superior Court in Boston, MA. Verdict of $775,000. Pre-trial interest and comparative fault offset results in total judgment against responsible general contractor for $828,000.
Retail Store Injury
$150,000.00
Injury

Ruptured biceps tendon. Retail store drops 27′ T.V. on man at their courtesy counter.
Challenge

No offer to settle. Store denies responsibility and blames customer for injuries.
Result

Jury Verdict Hillsborough Superior Court, Nashua, NH. $150,000
Slip and Fall at New Jersey Hotel
$80,000.00
Injury

Older client suffers fractured hip requiring hospitalization and surgery after falling on wet carpeted incline outside New Jersey Hotel.
Challenge

Insurance carrier for hotel denies liability or existence of any dangerous defect in walkway surface despite unusual grade change that is covered in carpet and allowed to become slick in rain.
Result

Counsel retains safety expert to review photographs of scene and conduct scene analysis in New Jersey. Personal injury suit filed through local firm in New Jersey. Case settled week of trial. $80,000
Slip and Fall at Work
$60,000.00
Injury

Premises Liability: 57 year old woman trips and falls over broken wooden landscape stake jutting onto sidewalk outside of her place of employment during cigarette break. Woman suffers fractured wrist requiring corrective surgery and extensive missed time from work.
Challenge

Property owner denies liability for hazardous condition created by vandals who routinely broke landscape stakes that were placed by landscaping contractor. Defense also asserts that plaintiff was injured "in the course of her employment" and recovery is barred by the Worker's Compensation Statute. Plaintiff's counsel establishes through discovery that property owner was aware of vandals breaking stakes and leaving them in place on or near sidewalk surfaces and only took remedial corrective measures after the injury. Injury occurred while plaintiff was on break and not in the regular course of her employment at retail store.
Result

Premises liability suit settled prior to trial at mediation for $60,000.00
Slip and Fall on Icy Side Walk
$50,000.00
Injury

Client injured in fall on icy patch on side walk outside bank suffering fractured coccyx and knee injury.
Challenge

Client injured in fall on icy patch on side walk outside bank suffering fractured coccyx and knee injury.
Result

Suit filed. Discovery discloses that building maintenance worker aware that icy patch existed regularly due to run off of water from roof overhang but area was not salted on day of incident because of weekend staffing. Settled prior to trial. $50,000